It is a big worry when you misplace your mobile device or worse still, if it got stolen. However one of the benefits of Android is having the freedom to customize your experience as you see fit. Powered by Google, your android device when properly set up, can be tracked by you, allowing you to have access to the real time location. In this article I will show you the step by step guide on how to set up your android device ahead of time and locate it if it got missing or stolen.
Getting Started
A feature called "find my device" that is on all android smart phone, when enabled helps find your missing android phone. Most Android phones now come with Find My Device (formerly Android Device Manager) built in. This service will automatically track your phone's location, so if it ever goes missing you can hop on your laptop or a friend's phone and find its last known location, ring your phone if it's nearby and you need a hint, or lock and/or erase your phone if you fear it has been stolen.
The most important thing you can do is make sure your phone is set up to be found before it goes missing. Otherwise, you're basically on your own.
By default, the following settings are enabled, however it is advised that you go through them on your device to be sure.
How To Enable Find My Device on Your Phone
In newer Android phones, a shortcut to the Find My Device service is already located conveniently in your Settings app, but you might still need to download Find My Device from the Google Play Store to get it set up. This locating service has essentially integrated with Google to make finding your phone easier. There are just a couple of things you'll need to activate.
Step 1: Enable Find My Device
Launch Settings.
Tap Security & lock screen.
Tap Device administrators.
Tap Find My Device so that a check mark appears in the checkbox.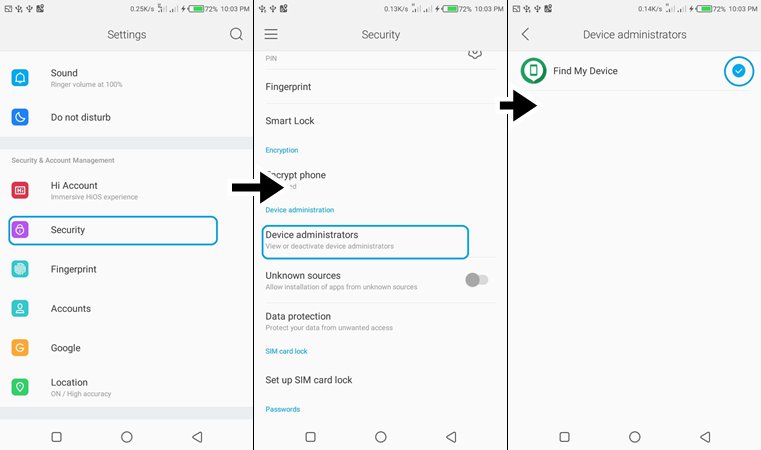 Step 2: Switch on Location and set to High Accuracy
Launch Settings.
Tap Location in the main Settings menu.
Tap the Switch beside Location at the top of the screen so that it turns on.
Tap Mode.
Tap High accuracy so the circle is filled in.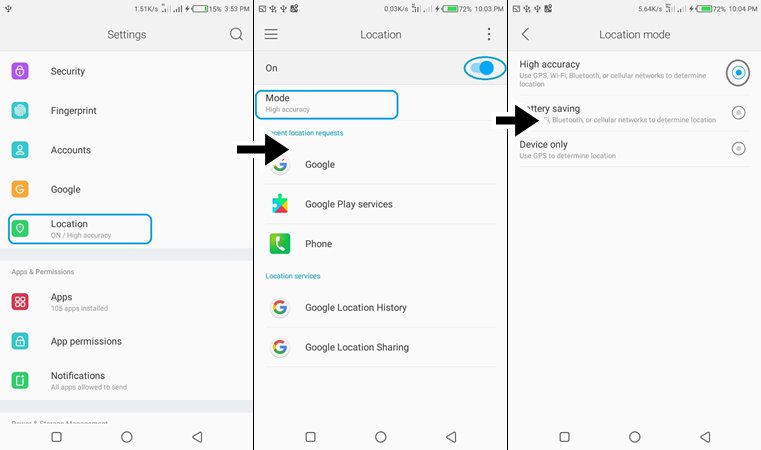 Step 3: Enable Google Location History
From the Settings tap location in the top left corner.
Tap Google Location History.
Tap the Switch beneath Location History so that it turns on.
Tap the Switch beside your device so that it turns on.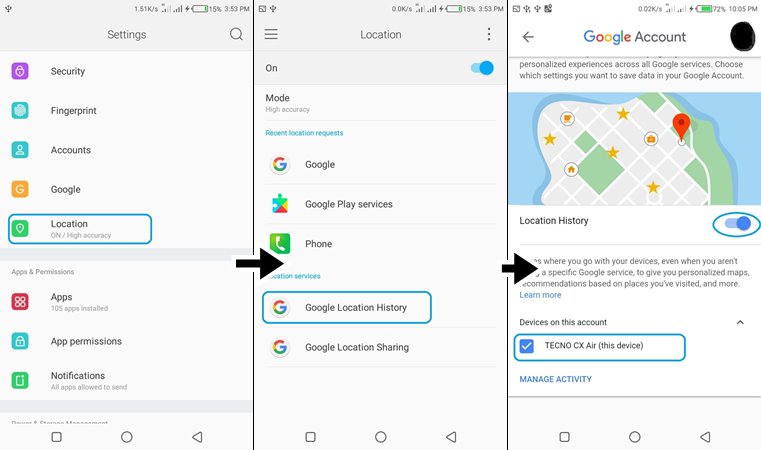 How to locate your phone with Google
Following the guides listed above makes it easier to find your phone should it get missing or get stolen.
Should you happen to lose your phone, you can locate its whereabouts by logging into your Google account (the one used on the missing android phone) from any computer or even from another phone.
Launch a web browser from a phone, tablet, or computer or open the find my device app on another device.
Navigate to android.com/find.
If necessary, enter your email address and password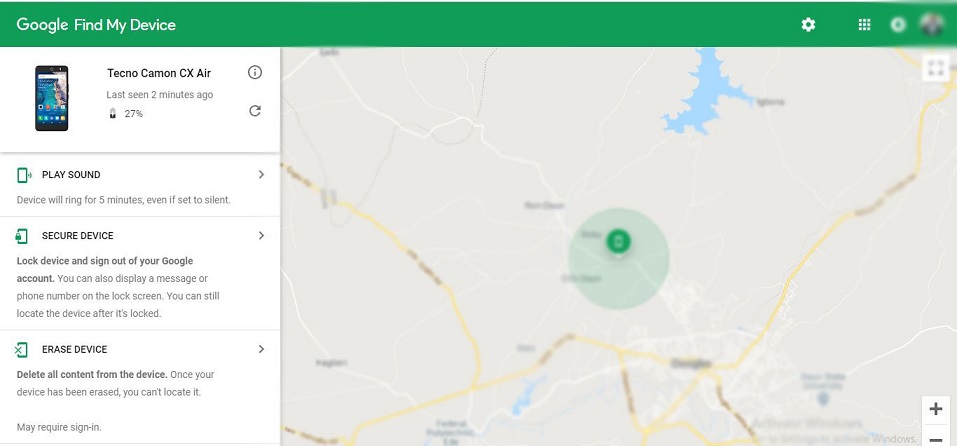 With Find My Device open, you have three options to choose from:
You can play a sound so that it makes noise (even if you had it on silent for 5 minutes). This feature is helpful if the map indicates that the phone is within a short distance and you simply can't see it.
You can secure your device so that the finder can't access your home screen. This feature is most helpful if your phone wasn't previously secured with a password or a fingerprint sensor. This feature also allows you to display a message or phone number on the lock screen.
You can erase your phone. This is the best option if you know for certain that you aren't likely to retrieve your phone. However once you have erased your phone, you can not locate it again.
Note: If you are trying to locate your phone with Find My Device and it doesn't seem to be working, the most likely cause is the missing phone is not currently connected to any data network or switched off. In this case, it's important to keep trying; the moment your phone does make that connection, it will appear on the map. However if the device has been wiped, this procedure will not work, at this time its better to inform the police.
Found this helpful, why not share to others. You can also share your comments below. You can contact us here