Reading this means you might have lost your Iphone or worst yet, it has been stolen. You also likely want to know how to retrieve your beloved device if missing. The good news is that Apple has software that can make it easy to track down a lost iPhone, and if it has been stolen you can use that software to wipe the iPhone and lock it down so that your data is protected.
I will talk you through how to use Find My iPhone to discover the location of your iPhone or iPad in this article. I will also explain how you can track the last location of your iPhone even if the battery has died or it is no longer connecting to the internet.
The worst case is when your iPhone has been stolen and cannot be recovered, I will explain how to lock the iPhone down, wipe your data and make sure that services like Apple Pay can't be used.
Use Apple Watch To Ping your iPhone
The first and the simplest method, if you've got a paired Apple Watch, is to ping the iPhone. Mostly useful in cases where you simply misplace your iphone or you think the phone is nearby.
On your Apple Watch,
Swipe up from the bottom of the screen to bring up the Control Center.
Tap the ping icon (icon of an iPhone with curved lines emanating from it)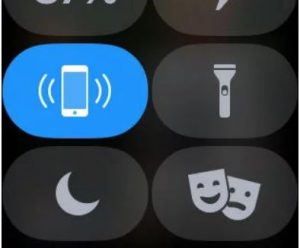 After tapping on the ping button, your iPhone will emit a brief pinging sound to help you locate the device, even if silent mode is enabled.
Continue tapping on the ping button as needed to locate your nearby iPhone
You can also Tap and hold the ping button to have your iPhone flash its LED light. This can be helpful when trying to locate your iPhone at nighttime or in the dark.
Use Find My iPhone
Find My iPhone is a free and easy to use app on your iPhone. It also works on your iPad, Apple Watch and Mac, so you can keep track of all your Apple devices.
How to set up Find My iPhone
It is better to take precautions in case you loose your device.If you haven't already set up Find My iPhone this is how to do it:
On your iPhone or iPad tap Settings
Click on your name at the top of the list to enter iCloud (if your phone is running an older version of iOS click on Settings > iCloud.
Scroll down to Find My iPhone and tap
Turn on Find My iPhone and Send Last Location.
If Find My iPhone is enabled on your missing device
If you enable the find my iPhone feature on your device before it went missing, You can use Apple's Find My iPhone to locate your device, take additional actions to help you recover it, and keep your information safe.
Sign in to icloud.com/find on a computer, or use the Find My iPhone app on another iPhone, iPad, or iPod touch.
Open Find My iPhone, and select a device to view its location on a map. If the device is nearby, you can have it play a sound to help you or someone nearby find it.
Turn on Lost Mode. With this feature, you can remotely lock your device with a passcode, display a custom message with your phone number on your missing device's Lock screen, and keep track of your device's location. If you added credit, debit, or prepaid cards to Apple Pay, the ability to make payments using Apple Pay on the device is suspended when you put your device in Lost Mode.
Report your lost or stolen device to local law enforcement. Law enforcement might request the serial number of your device. Find your device serial number.
Erase your device. If it appears that you can not get your device back, you can remotely erase your device to prevent anyone else from accessing the data on your missing device. When you erase your device, all of your information (including credit, debit, or prepaid cards for Apple Pay) is deleted from the device, and you won't be able to find it using Find My iPhone.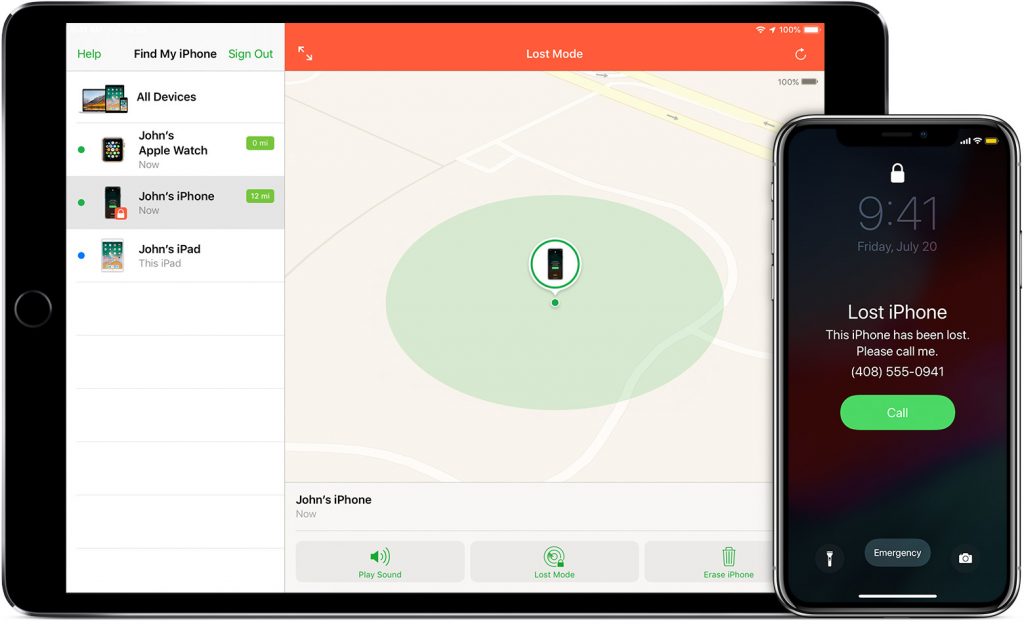 NOTE: After you erase a device, you can't track it. If you remove the device from your account after you erase it, Activation Lock will be turned off. This allows another person to turn on and use your device.
If Your Device Is Off or Offline?
If your missing device is off or offline, you can still put it in Lost Mode, lock it, or remotely erase it. The next time your device is online, these actions will take effect.
NOTE: If you remove the device from your account while it's offline, any pending actions for the device are canceled.
TIP: If you use Family Sharing, any family member can help locate another member's missing device. Just have your family member sign in to iCloud with their Apple ID, and you can find any device associated with that Family Sharing account.
If Find My iPhone isn't enabled on your missing device
Find My iPhone is the only way that you can track or locate a lost or missing device. If Find My iPhone isn't enabled on your device before it goes missing, there's no other Apple service that can find, track, or flag your device for you.
However, you can still use these steps to help protect your data:
Change your Apple ID password. This prevents anyone from accessing your iCloud data or using other services (such as iMessage or iTunes) from your missing device.
Change the passwords for other internet accounts on your device. This can include email accounts, Facebook, or Twitter.
Report your lost or stolen device to the police who might request the serial number of your device. Find your device serial number.
Having gone through these article so far the advise in protecting your device from theft are:
Set a screen lock on your device
Back up your iPhone so you don't lose your valuable
Enable and use Find my iPhone on you device
Always make sure that you keep all your belongings with you
Found this interesting and informative, please do share with other using the buttons below. Feel free to add your comments or contact me here
Originally posted 2018-12-13 07:34:38.