Android 9 "Pie" is the Ninth major update of the world's biggest smart phone operating system and the features are incredibly awesome. The update is comes with features that will make smartphones smarter and lets its users stay in absolute control. Android 9 pie was first released in August 6, 2018. The Update succeeds the Android 8 "Oreo" and Oreo Go Edition. Google's own Pixel and Pixel 2 smart phone devices will receive the new version first, with others following towards the end of the year to Next year.
Google really wants your phone to be really yours. Android 9 pie is designed and tailored to adapt to your life by learning how you use your phone and your preferences as you go. This will give you better experience, and keeps things running smoother, smarter and longer. You may wonder how this is achieved with the Android 9 pie update. Well, here is a brief review and features of the Android 9 pie to get you familiar with the OS as it is rolled out on different smartphones.
Digital Wellbeing: A cool new feature that lets you stay in control of your Phone Usage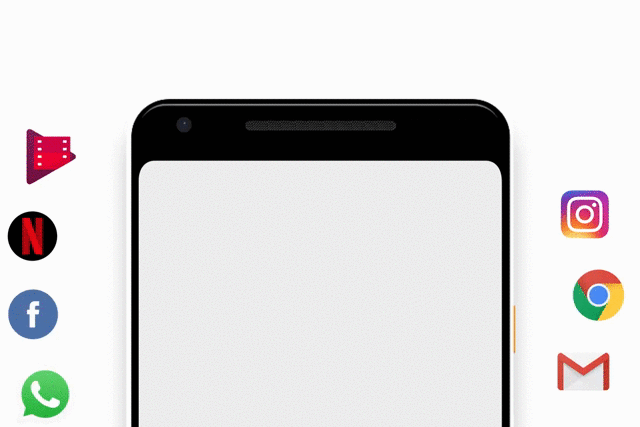 This feature has a set of tools to help you learn hoe you use your phone and make any adjustments. The tool includes:
Do Not Disturb (Optimized): The new improvements to Do Not Disturb will not only silence notification sounds, but also all visual interruptions. However, calls from starred contacts will still come through, so you do not have to worry about missing important calls.
App Dashboard: This wonderful tool gives you a daily view of the time spent on your phone, how frequently you use different apps and the numbers of notifications you get.
Wind Down: Allows you to set a daily schedule for your bed time. Uses gray-scale to fade your phone's backlight to gray and Do Not Disturb to silence your notifications for a restful sleep.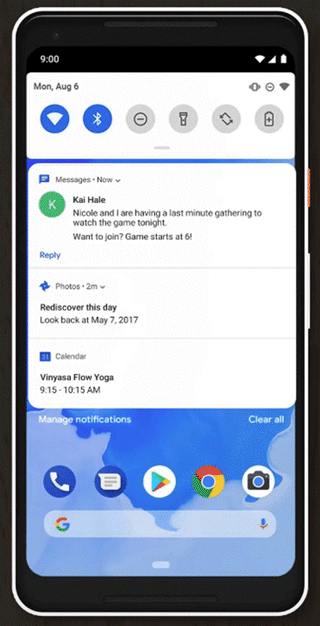 App Timers: This is another great tool that let you set daily time limits for your apps. When you reach the limit, the app is paused for the rest of the day.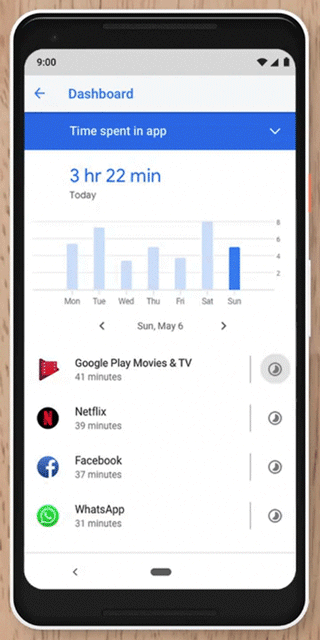 Smarter Notification
With Android 9 Pie, messaging apps (e.g Whatsapp) can now provide suggested 'smart replies' in the notification area, so you can respond in a tap, this without opening the app. Also, you can now see images sent from your friends right in the notification.
You also now have a quick way to turn off notifications from selected apps, so you only get notifications that are useful and helpful to you. When swiping away a notification, you will also get a smart prompt to choose whether you want to keep receiving them.
More Secure
Android 9 pie has a new feature called "Lock Down" mode. When in Lock down mode, all notifications and personal info from your lock screen will be cleared. It will require only your PIN or password to unlock the phone as no sort of bio-metric security entry will be able to unlock. This feature was designed to protect against thieves or anyone who might try to unlock your phone by showing it to your face (for Face ID security) or forcing your finger onto the sensor( for fingerprint security). To trigger the Lock down mode, hold down the power button and select lock down from the list.
Enhanced Usability
Android 9 Pie has greatly improved and enhanced system usability with the addition of awesome features that will make any smart phone smarter. Some of these features are:
Seamless Screenshots: You can now take screenshots easily from the power menu and even do a few editing like drawing, annotating and cropping quickly
More Flexible Screen Rotation: You now get more control over your screen's display rotation with a simple button that confirms when you would like to change the rotation on your device, even when you screen orientation is locked. This will prevent any accidental screen rotation.
New System navigation: Android system navigation had been re-designed to help make it simpler to search and move between apps. Swipe up from anywhere to see full-screen preview of recently used apps then swipe right or left to easily navigate between them, and tap on one to select it.
App Actions:This feature predicts what you will want to do next based on your context, and it displays that action right on your phone, therefore saving you time. So if you do something at the same time every day, you can expect to see a button that will help you go straight into doing it at that time.
Adaptive Battery: This is a new feature that is also designed to adapt to the way you use you phone. This feature is developed to predict which apps you will use soon and which ones you likely won't, so you phone spends battery power on the apps you only use. This gives you more juice to go longer
Smarter Gestures: Android 9 Pie brings a few new gestures, including holding the power and volume up buttons to prevent ringing, silence your phone by tuning it over.
Enhanced Bluetooth: With Android 9, you can connect up to five different Bluetooth devices and easily switch between these connected devices. You can also receive incoming calls from any of the capable Bluetooth device.
New cool User interface: The new user interface now appears more rounded at the corners and has the clock moved to the left of the notification bar. You also now have the opportunity to select you own theme.
Have Anything To Say? Please Comment Below And Share. You can also Contact Us Here
Originally posted 2018-10-30 01:44:33.