Social Media is a part of our lives today, and there are few of these social media network that we spend a considerable amount of time on, on a daily basis. Facebook, the world Social Media giant has now begun rolling out a feature that tracks and monitor the amount of time you spent on the social media network. This feature is currently called Your Time On Facebook and currently available through Facebook mobile app.
As was first reported by Techcrunch, this feature is designed to help you manage your social networking, by revealing how much in minutes, you have spent on Facebook's app on a device each day for the past week on average.
This feature also allows you to set a daily limit and get a notification reminding you to quit the app after the time limit is reached.
How To See Your Time On Facebook
As this new feature is being rolled out, you may find it important to use it in limiting your Daily Facebooking. Here is how to access this feature:
Select the More Tab at the top right hand corner of the App(the three-line icon);
From the menu, tab the "Settings and Privacy" drop down;
Tab "your time on Facebook" option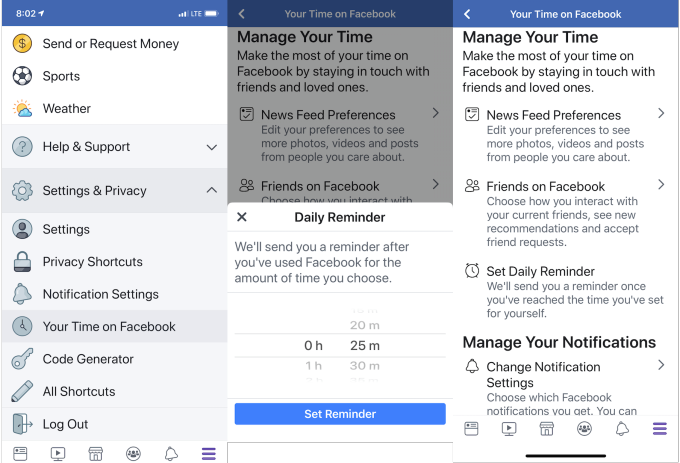 This will give you a number of options including setting your daily time limit.
A chart of daily Usage graphs will appear, Showing how much time you have spent actively using the Facebook app on average during the past week.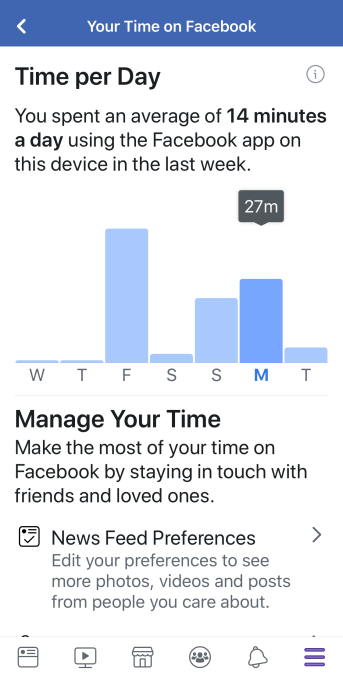 This feature is being rolled out worldwide and across all devices. I have personally checked the Facebook app on my device and its currently not available. However, Jason Cipriani of Cnet.com in his article could confirm that it's currently available on Google Pixel 3 XL device, with more users getting the features daily.
Downside Of Your Time On Facebook Feature
While this feature was developed in an effort to help you control your Facebook use by setting your desired limit, the feature only alerts you when the limit is reached and no option to force you to quit. This makes it somewhat toothless.
In contrast, the IOS's 12 screen time works better than this as it prompt you your weekly usage report either you ask for it or not. By Far the new Digital Wellbeing on Android 9 is the best in controlling and limiting your social media usage. The Digital wellbeing Feature will Greys out (locks) any app on the device when your daily usage limit is reached and you will have to dig in to the settings to unlock it.
Another issue is that, It treats all time the same. For now, the feature does not break down how much time you spend using the network across devices and on different sections of the app.
Update: This feature is now available for me on my device and the vast majority on facebook app.
Found this interesting or informative ? Why not Share and comment below. You Can Contact us Here