One of the biggest sector experiencing tremendous development in Nigeria and Africa is the Technology sector. In an effort to sustain this development and inspire innovations in solving indigenous problems, different hackathons has always being organized. The latest is the KADHACK 2018 held in Kaduna State of Nigeria.
The hackathons has always been an opportunity for tech enthusiasts and professionals to come together and network, brainstorm and innovate. KADHACK 2018 wasn't an exception.
About KADHACK 2018
Held on 27th – 29th of November 2018 at KadICT Hub, 47 Kanta Road, Independence Way, Kaduna State, Nigeria, KADHACK 2018 was hosted by eHealth Africa in partnership with colab, Kaduna state Bureau of Statistics(KDBS) and the Kaduna State Government. The event presented an opportunity for stakeholders in the tech sector to engage the Kaduna state government in order to come up with software prototypes that could be further developed to solve problems within the Education and Health sectors.
With the theme, Developing Solutions for Sustainable Social Development; participants in the hackathon proved to be up to the task of developing solutions to indigenous Africa problems for a sustainable growth and social development.
The Impact
The 3-day hackathon had 10 teams of 3 programmers compete for the attractive prizes and contribute to data sets for improving the health and education sectors.
Prizes to be won are:
1st prize – N1,000,000 + 3 months incubation at eHealth Africa
2nd prize – N750,000
3rd prize – N500,000
The event saw a lot of creativity displayed from each team, creating programs to provide solution to specific problem in health and education sectors. Data sets from GRID 3 ( Geo-Referenced Infrastructure and Demographic Data for Development) was made available for participants for use in their development. GRID 3 Generates integrated mapping of development needs throughout Nigeria across the health, education, environment, agriculture, urban planning and investment promotion sectors
At the end of the 3rd day, the winning teams emerged. Winners were selected based on the following criteria:
GRID3 data use
Originality
Practicality
Sustainability
Accessibility
Technicality Bonus
The 3rd position went to Team Sprout!. The team developed a solution they called "sproute".
This web-based and mobile solution offers the following:
Central database for ministry of health facilities
Owners of health facilities provide details about services
Accessibility of health facilities to users
Whatsapp Bot & SMS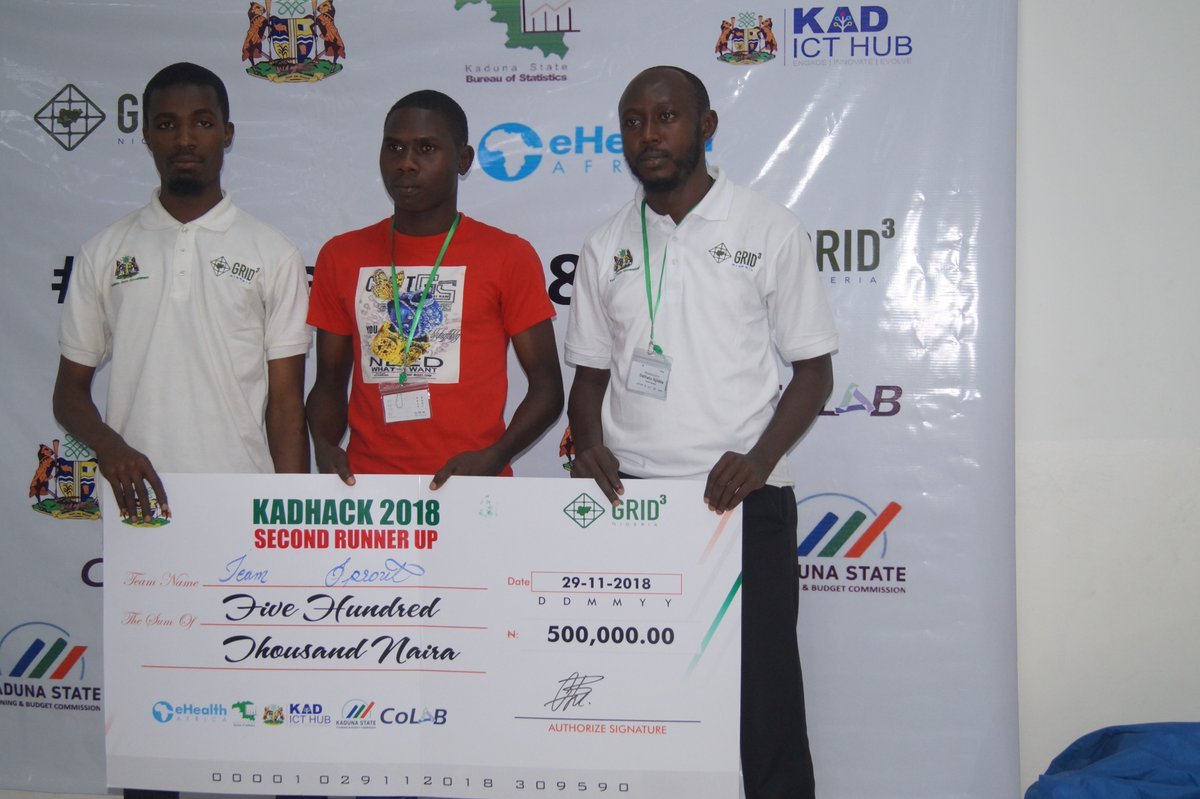 Coming in second place was team MubDevs with the solution they called Kadedu (Kaduna State School Management System).
This solution is designed to:
check absenteeism of student and staff
evaluate Student performance
Works both offline and online
Has a database of students and staffs
Share Data across schools
Each school is connected to a Health insurance center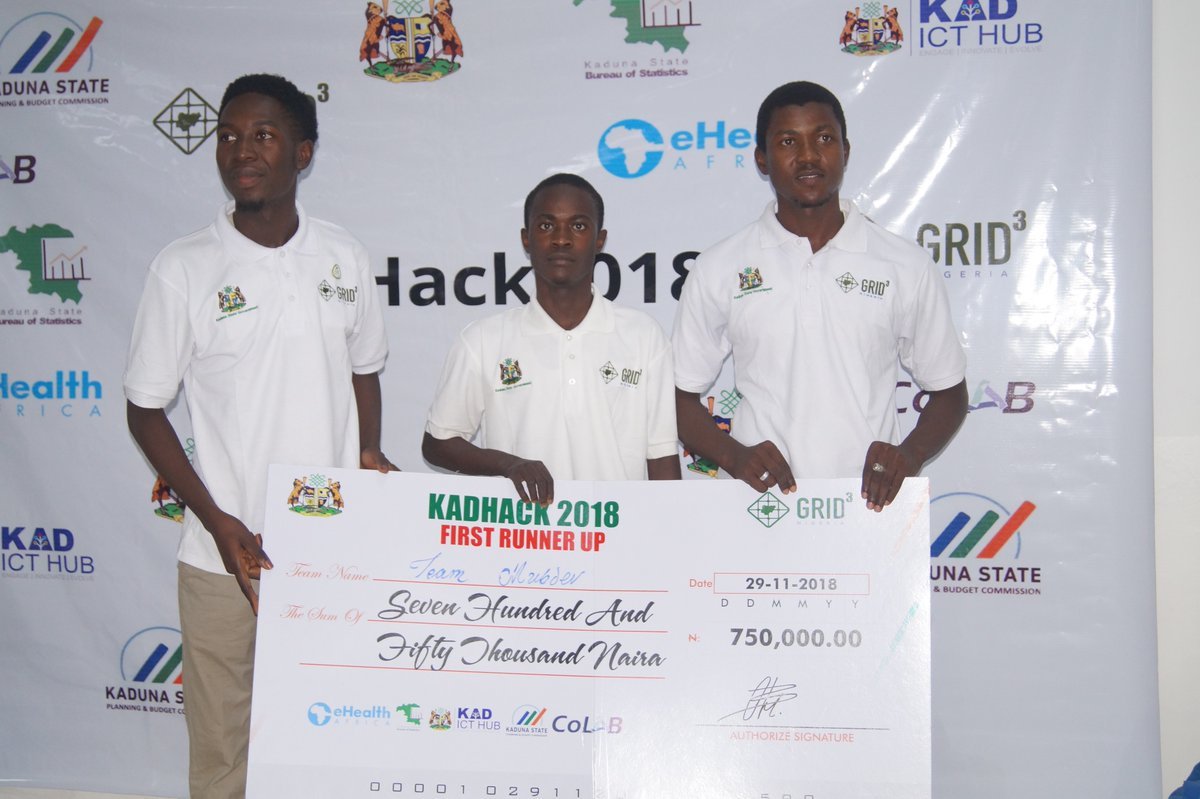 The winners of #KadHack2018 are "Team Egress" with their solution "Track It!". It is important to note that the only female in this hackathon is on this team!
The Track It Solution provides:
Mobile tracking for drivers to deliver goods
Admin gets to track drivers on a real time
Receiver notifies admin of package retrieval
Outbreaks are reported by users based on location and admin gets notified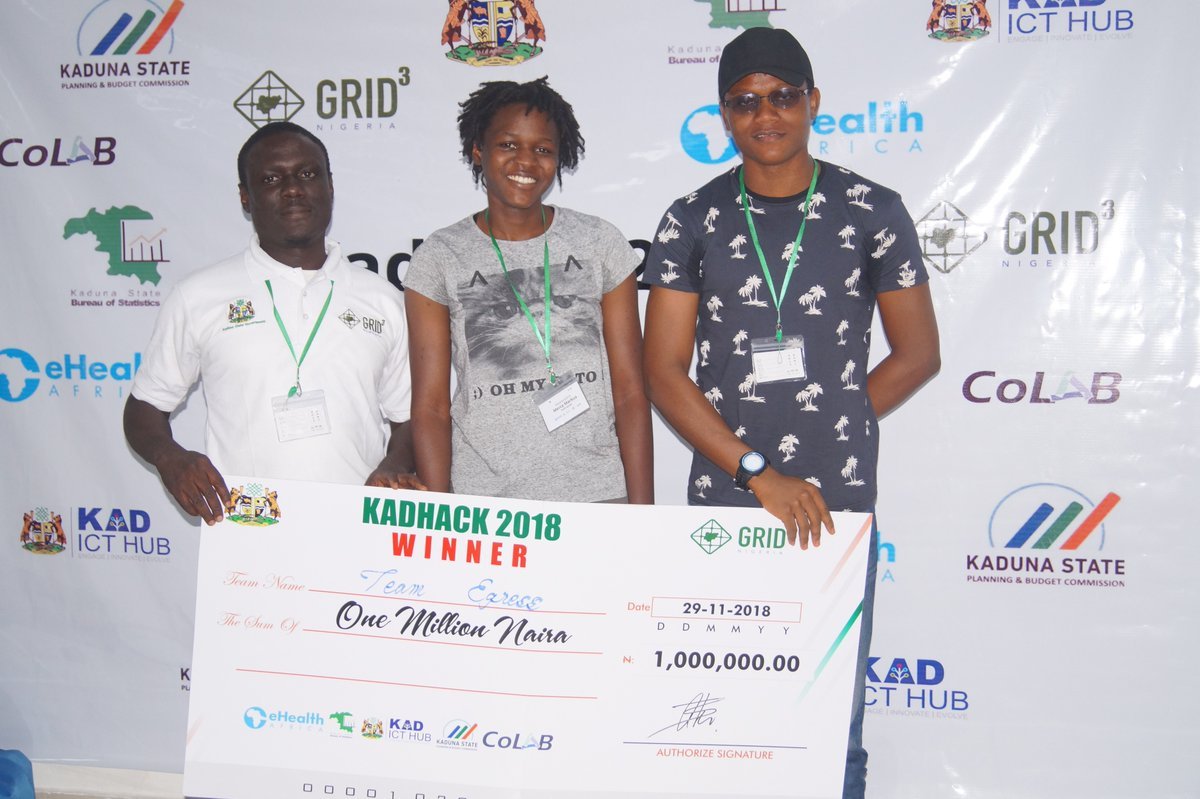 The Kaduna state Commissioner for Planning and Budget, Muh'd Sani Dattijo, was in attendance on the opening day of the 3-day hackathon. In his opening speech he clearly stated the aim of the hackathon when he said,
"We are deploying the creativity of young people and technology to find solutions to problems in healthcare and education."-Muh'd Sani Dattijo
At the end of the event, innovative solutions were built and the winner will in addition to a one million Naira prize won, undergo a three month incubation period with eHealth Africa, a leading eHealth delivery system provider. This synergy will go a long way in developing sustainable growth and solutions in the health and education sectors.
Find this informative and interesting, please click the share button below and comment. You can also contact us here