Yorlang is an esoteric programming language (understood only by the speaker of the language) designed to write small programs using Yoruba language constructs. Designed by Anuoluwapo Karounwi, a computer science graduate from the Federal University of Abeokuta (FUNAAB) It is the first of its kind and it can carry out basic programming operations in Yoruba language, a language spoken in the south-western parts of Nigeria. Programming languages are languages designed for giving instructions to and controlling a computer. This makes it possible so both humans and machines can read instructions, often contain keywords from natural languages.
Yorlang and the Yoruba Language
The Yoruba language is limited in vocabularies when it comes to many technological concepts as the English language. However, yorlang is a concrete step to making digital inclusion a reality for the native speakers and potential of expanding the Yoruba vocabulary.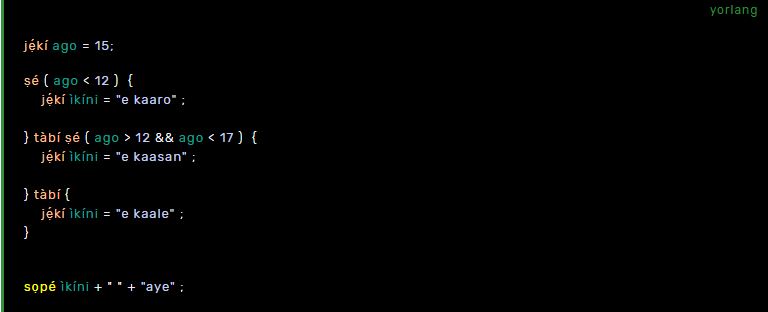 Anuoluwapo Karounwi was thinking about this natural language/programming language relationship when he created Yorlang. He imagined people who think in Yoruba would find it easier to understand programming, as beginners, if they could read the keywords in Yoruba, the language they were most familiar with. While yorlang is still limited to writing small programs in Yoruba Language, it is dedicated to helping beginners relate with coding syntax in their native language.
The Prospect
Since the Yoruba Language is not as widespread as the English counterpart, therefore a programming language designed around this language, in this case, Yorlang, is not expected suddenly be a commercial language that gets widespread industrial usage. A fact that is all well-known to Anuoluwa Karounwi, however with about 800 downloads and 6 contributors within two months of putting it up on Github, It is expected to grow.
We will patiently wait to see the direction this goes and it will be interesting to see Yorlang become a functional tool to teach programming and as a medium of cultural expression.
What's your thought on this? share in the comment below
Originally posted 2019-02-28 14:43:34.