On Sunday, February 24th, Richard Yu, CEO of Huawei's consumer products business, on Sunday, announced the new Huawei foldable phone, the Huawei Mate X, in a press conference. It is Ultra slim and ultra-compact even when folded.
The unveiling took place at the Mobile World Congress (MWC 2019) even in Barcelona. With the amazing specs, elegant design and power the new phone called Mate X boasts of, it is sure to give the Samsung Galaxy Fold a run for its money
#HUAWEIMateX is our most ambitious device to date. The perfect intersection between the future of design and the future of technology. #ConnectingTheFuture #MWC2019 pic.twitter.com/PUipAPKMvX

— Huawei Mobile (@HuaweiMobile) February 24, 2019
8-Inch Wide Tablet Display
The Huawei Mate X has one display that can be transformed into three distinct configurations. First, the wide unfolded 8-inch tablet display with an 8:7.1 aspect ratio, and a 2,480 x 2,200 resolution.
However, unlike the Samsung Galaxy fold, it folds outward, giving two more screen configurations. The front-facing screen offers 6.6-inches of edge-to-edge real-estate, complemented by a 19.5:9 aspect ratio and a 2,480 x 1,148 resolution.
And thirdly, a rear screen, which offers fewer screen inches, as it contains the device's cameras and handles. This is primarily used for taking selfies. It offers a decent (but thin) 6.38-inches of screen size, at a somewhat compressed 25:9 aspect ratio and a 2,480 x 892 resolution.
First look at the Huawei Mate X foldable phone in all of its glory at #mwc2019 pic.twitter.com/s4l6r7lYtd

— #StopAsianHate (@raywongy) February 24, 2019
Ultra-Thin and Compact Body
When the phone is folded, it measures 11mm thick, which is still reasonably slim.
Amazingly, when unfolded, the Mate X measures 5.4mm thick, which is marginally thinner than the iPad Pro. A very slim and compact design.
Ultra slim and ultra compact. Opening to just 5.4mm thick and folding to a slimline 11mm, the #HUAWEIMateX. #ConnectingTheFuture #MWC2019 pic.twitter.com/9MG3Kjsypi

— Huawei Mobile (@HuaweiMobile) February 24, 2019
Running across the side of the Huawei Mate X is a handle. This contains the phone's three cameras, (which can be found on the rear screen when folded) including one using Leica's hardware.
There are no camera bumps on this phone and the fingerprint sensor is directly on the power button. Huawei calls the Mate X's design "Falcon Wing".
Camera Design
Huawei is quite innovative with the camera design on this new device. There isn't a dedicated front-facing selfie camera on the phone. That's because the three primary cameras are the selfie cameras. To take a picture of yourself, you just need to fold the phone and flip it over.
And because the "rear" of the device also contains a screen, you can use this when taking pictures – for example, to give the subject of a photo a preview of what it'll ultimately look like.
Perfect your pose. Mirror shooting lets you see your picture as it's being taken. #HUAWEIMateX #ConnectingTheFuture #MWC2019 pic.twitter.com/FMt0vAZVtK

— Huawei Mobile (@HuaweiMobile) February 24, 2019
Specifications and Performance
The Mate X uses Huawei's Kirin 980 silicon for its processor, as well as its Balong 5G modem. Thi makes mate x among the few front liners to ship with 5G. Huawei promises that the power will be more than double the performance of modems from rival firms, like Qualcomm's Snapdragon and Samsung's Exynos offerings.
The Mate X is a dual-sim phone, with one slot supporting 5G, with another limited to just 4G. You can slot in an NM card and add some extra storage in place of the second SIM slot. The phone comes with 512GB of storage and a powerful 8G RAM. This is more than enough even for the most addicted movie enthusiast.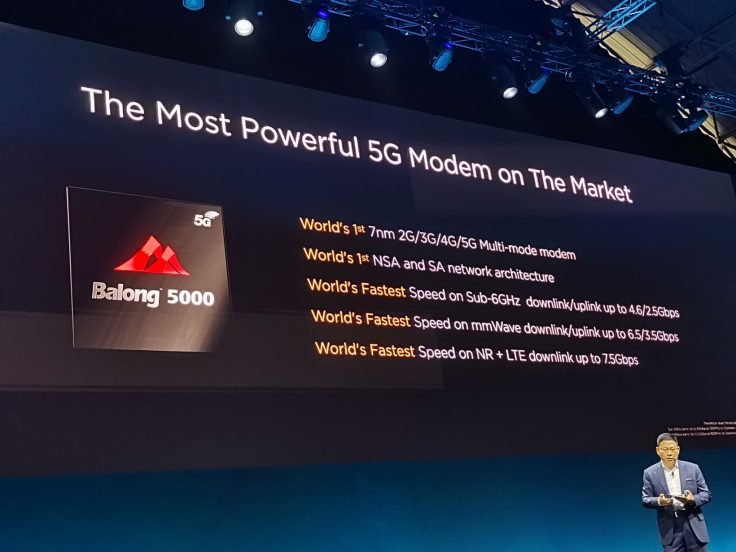 The Mate X comes with a pretty large battery. A cumulative of 4,500mAh enough to power its a large screen.
The company did share that the Mate X comes with a 55W supercharge feature, which can refill the phone's battery to 85 percent in just thirty minutes.
In terms of software, the Mate X runs Android 9.0 Pie.
Pricing
With a starting price of US $2,600 (€2,299), Huawei mate X is costlier than the Samsung Galaxy Fold and far more than the costliest iPhone. Huawei says that the Mate X will be released halfway through the year.
The firm also boasted of a flexible FullView OLED Display, two-column browsing side by side or multi-window use, and a camera system that can play the role of both front and rear cameras. It also offers a mirror shooting that lets you see the picture while you take it.
The phone is Huawei's first foldable phone and it has some other new neat developments. It has a groove called a sidebar that allows you to hold the phone from one end.
Have a look at the Phone
Originally posted 2019-02-25 14:11:19.