At one time or the other, we've all accidentally sent a message to someone and wish we could take it back. But regrettably we couldn't. Thankfully, taking after whatsapp, Facebook Messenger now allows you to delete/unsend a sent message – both for individual and group chats – for up to 10 minutes after sending it.
How to Remove a Sent Message on Facebook Messenger
Upon realising you've sent a wrong message -or sent to the wrong person or group, follow these simple steps to remove the sent message:
Tap on the message you want to remove
Tap Remove from the options that appears below the screen
Then select "Remove for everyone" option that pops up. The deleted text will be replaced by an alert indicating that the message was removed.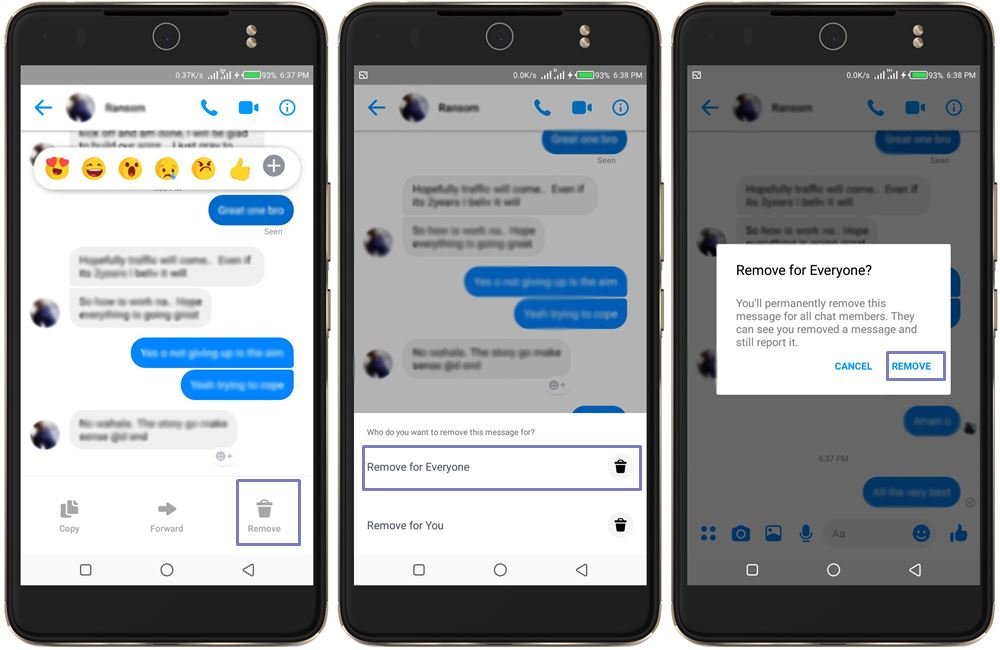 If you select Remove for me, the message will only be removed from you alone and not from the recipient. This option is best used when you are in a group conversation and you don't want to see some messages at your end. This will only hide the selected messages from your view, and not for others in the group.
This feature is rolled out with the latest update of Facebook Messenger few days ago for both iOS and Android. So if you don't have the feature on your app yet, try to update it from your app store.
If you are using the Messenger's web app, you can remove messages by hovering over the button with three dots alongside your chat bubbles, and clicking on the 'Remove' button to clear them.
It is important to note that, to remove a message from all, both sender and recipient, the message should have been sent in less than 10 minutes, else it can't be unsent again.
Have anything to say about this, please use the comment area below.
Informative? Kindly share.
Originally posted 2019-02-22 08:18:51.