Sometimes ago, I wrote about 6 best methods to browse the internet securely and privately, and the first on the list is to use a virtual private network commonly referred to as VPN. I have taken the time to check around for the best VPN service out there that is secure, truly private and fast, and here it is, Ivacy VPN.
Ivacy won The 2019 bestvpn.com award for being that fastest VPN!  In addition, Ivacy was third place runner up in the Best Overall VPN award; proving that this VPN is a fantastic all-rounder and one of the best if not the best VPN out there
A quick brief of Ivacy VPN
Total Number of servers locations : 1000+
Numbers of country Locations: 50+
Simultaneous connections : 5
Support port forwarding and selection
Router support
Protocols : OpenVPN, L2TP, IPSEC and IKEv
Business location : Singapore
No logs (Truly Private)
Blazing fast speed performance
30-day refund plus 7-day free trial
Split tunneling (not Mac)
P2P allowed
Unlimited Bandwidth and speed
Accept Bitcoin for payment
The best offer in Pricing
Ivacy VPN Review
One of the things that makes Ivacy VPN stands out is  it's level of integration on any device for any internet services. Ivacy VPN is designed to serve as a one-size-fits-all solution, that allows users to skip any hassles associated with finding more than one VPN for the type of experience they desire. There are 4 major diverse needs common to all internet users and ivacy caters to it all with just one subscription on any of you device.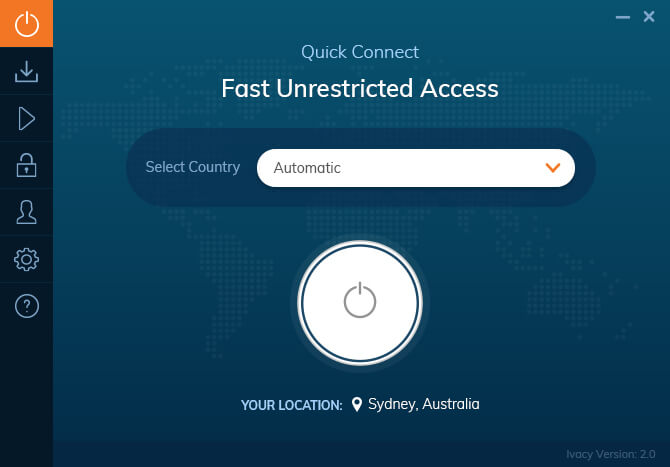 Data privacy
Ivacy protects you from ISP tracking and third Party spying, and has a strict ZERO LOG policy, giving you the online freedom you've always desired. This means that as Ivacy protects you from the prying eyes of your ISP, It also does not log your records. More interestingly, Ivacy accepts Bitcoin, so you can also remain totally anonymous even to Ovary itself.
Data Security
Ivacy uses advanced 256-bit encryption to protect you from hackers, snoopers, data thieves, Wifi hackers and even government surveillance!
Stream Anything, Anywhere
Binge your favorite movies and TV shows, watch live sports and much more on any channel anywhere on your favorite streaming device.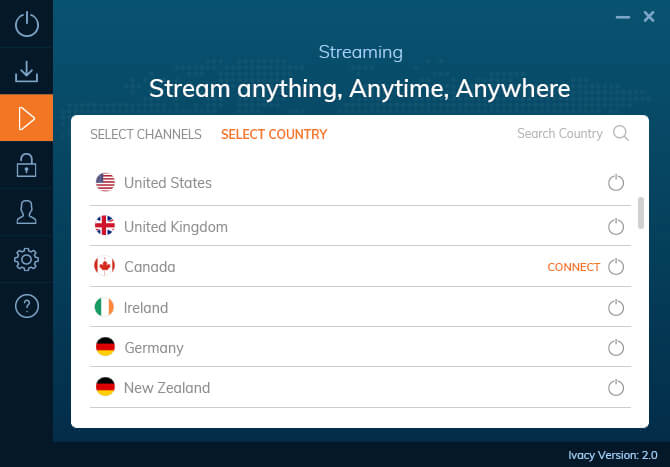 Anonymous Download and Torrents
With Ivacy,you can, Download any and all torrent content with ease and comfort at great speed like never before with 'Zero' Logs and total anonymity
High Security and Simultaneous Multi-device Capability
Ivacy allows users to connect up to five devices at once using the same account. Although fast becoming the industry standard, we still consider this a generous allowance that will allow most people to connect all their VPN-capable devices at all times. Ivacy also offers a very generous 550+ servers in 100+ locations in 50+ countries around the world. This includes locations in areas often neglected by VPN companies, such as South and Central America and Africa. These servers are of different types and unlike many VPN services, Ivacy is happy to provide a list of which ones are which. This makes it easy to choose the one that best fit your needs. P2P torrenting is not only permitted, but Ivacy offers optimized P2P servers which it says provide the best seeds for filesharing.
Split-tunneling
In addition to letting you use multiple devices simultaneously, Ivacy also support spli-tunneling, this allows you to choose which programs and apps use the VPN tunnel, and to exclude the rest.  Split tunneling is very useful if you only need the VPN for certain reasons or specific application(s) or program(s). For example, you may want to direct all your internet traffic from chrome through VPN while Firefox is used with VPN. This is a great feature, although it's only currently available to Windows and Android users.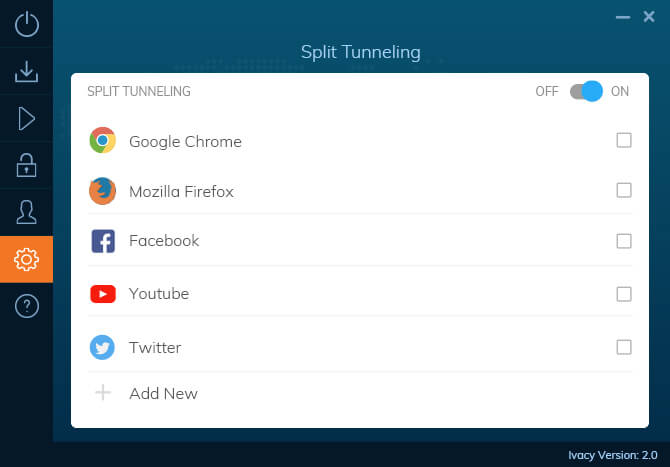 Dedicated IP Addresses and Secure Downloading
Dedicated IP addresses are particularly useful for accessing streaming services which block IPs known to belong to VPN services, as it is unlikely the dedicated IPs will be blacklisted. They are also less likely to trigger irritating captchas on websites. And the good news is that Ivacy can provide subscribers with dedicated static IP addresses at an additional cost of $1.99 per month. You can save up to 90% here
While the purpose of using VPN include privacy and anonymity, using a dedicated IP as against a shared IP may defeat this purpose as it very easy to trace that IP back to its sole user. However, you can use the dedicated IP only when you want to, and connect to shared servers when you want more privacy.
The Secure Download feature is for peer-to-peer downloads as well as just general file and program downloading. This section has a security option that applies malware scanning at the server level to help avoid any virus in you download. However, it is advisable to still use your anti-malware program.
Cross-platform Availability
Ivacy VPN is availability for windows, MacOs, iOs and Android Is which means  you get to enjoy the service on all your devices be it a laptop or your hand-held device.
The windows client uses the fast and highly secure IKEv2 VPN protocol by default to secure connections. You can opt to use the common  OpenVPN (UDP or TCP) instead. The client also includes a kill switch, which must be enabled in Settings. This makes sure that your real IP address is never exposed even if the program crashes.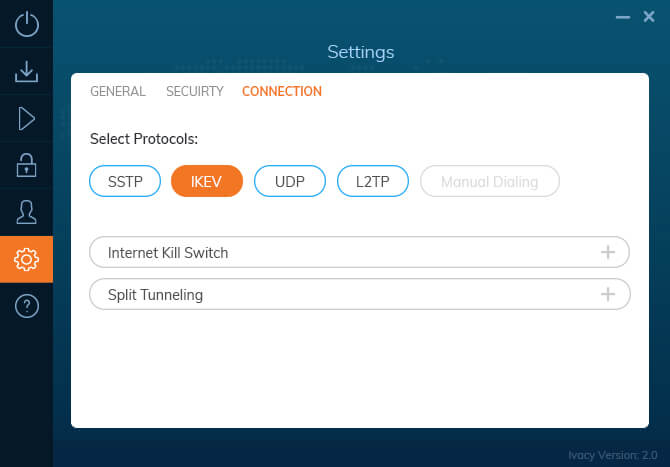 The MacOS client looks and functions almost identically to the Windows client, except that split tunneling and dedicated IPs are not available.
The OpenVPN (UDP and TCP) Android app is surprisingly fully-featured, with a kill switch and split tunneling present.The app also offers a Multi-Port feature that Ivacy says automatically scan for open ports to quickly connect to, in order to provide best port connectivity.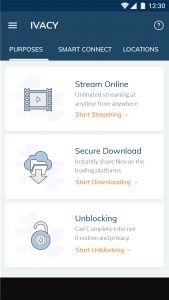 Ivacy also offers an iOS app. It uses IKEv2 and has Ivacy's secure download feature. It has no kill switch, which might be due to Apple's strict developer guidelines.
Interestingly, Ovary also supports Linux, Kodi Blackberry and console, however you will have to do some setup using some set-up files regularly released on Ivacy website.
Pricing
Ivacy has one of the most flexible and affordable payment plans. A 30 days money back guarantee and a wide variety of payment options.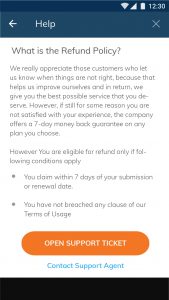 Going through Ivacy payment plans, I found out that the more months or years you subscribe for, the lesser you get to pay. As of this writing, there's an offer that let's you save up to 90% and even get a year free subscription. You can get it here.
Final Thoughts
I must say, Ivacy is truly impressive in the services it offers. It is a highly secure and privacy-friendly VPN service that offers the kind of services you expect from a top rated VPN provider. It unblocks a huge number of streaming services with apparent ease. And to top it all up, it's fast, in fact the fastest in its league.
So if you are looking for a highly secure and private VPN service that has a wide range of applications and top notch features with multi device and multi platform compatibility, then Ivacy is for you.
Originally posted 2019-01-20 11:23:10.