As earlier Speculated, Samsung has given tech lovers their first look at a new folding smartphone. Rumors about the new device has been going around for about a year with a lot of leaked reports from the south-Korean Tech giant providing hints about the device.
The phone was unveiled at the Samsung Developer conference in Sans-Fransisco
What We Know So Far
According to Samsung, the foldable phone's technology sets "the foundation of the smartphone of tomorrow"
The smartphone features a 7.3 inch screen called the "Infinity Flex". This is made to be folded so it can fit into your pocket. When opened, it doubles as a tablet. It also features a secondary screen that can be used when folded.
The screen Resolution when folded is 840×1960, but 1536×2152 when unfolded.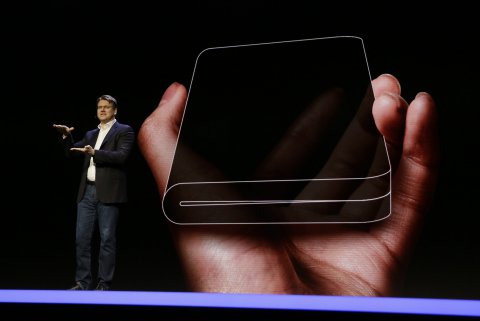 While rumors earlier have it that it will be called Galaxy X or Galaxy F, Samsung did not officially reveal its name.
As of now we don't really know much as Samsung did not fully demonstrate its features and the phone was presented in darkness limiting the glimpse into all its glory.
Samsung is facing tough competition to deliver its foldable smartphone, with Royale Corporation, a California-based tech company, unveiling its own foldable smartphone in Beijing last week.
When You Can Buy It
Samsung says it plans to go into mass production for just the display in the "matter of months". The phone is expected to hit the market next year, 2019. It is expected to cost around $2000 (NGN 729,000).
Have anything to say? Please comment below and share. You can also contact us here