Google has officially released the latest version of its mobile OS, and it is named Android 10. Earlier in March, when the beta version was released for its pixel phones, it was tagged Android Q following the traditional alphabetical naming. However, this latest version, with the official name Android Q has seen Google ditch its desert names.
Android 10: The release and its new features
Earlier in September, after months of beta testing, Google released the long-awaited landmark OS, Android 10. All the new features and elegance that comes with it are listed on the android official page. Here is the gist from there
Put the lights off and go dark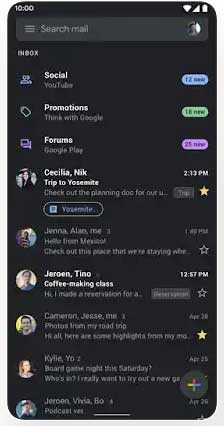 The new system-wide dark mode or like it is called "Dark Theme" in Android 10 is one of the biggest updates to the OS. The feature can be turned on and off by the user via the quick setting toggle. This feature will not only protect the eyes but also prolong battery life.
In addition to this is the new theming option. This is buried in the developer options, but when allowed lets you choose an accent color for your phone.
Navigate with just a swipe
With Android 10, we can bid bye-bye to the iconic back button as it has now been replaced with gesture navigation or simple swipes.
In place of the home button, you just swipe up, in place of the multitasking menu button, swipe up and hold and swiping from the right or left edge takes you back to replace the back button. The good news is, if you do not feel comfortable with the gesture navigation, Android 10 allows you to go back to the three-button option.
Follow your video with Live Caption
This option is an incredible addition to android that will provide a more immersive experience with videos. Most importantly for the hearing impaired.
Live caption is designed to provide a real-time caption (or a subtitle) for almost any media you are playing on your phone, even the ones you record your self. Interestingly, it does this locally on your device with no need for an internet connection for the captions. Access to this feature is in the Accessibility setting.
Reply with a single tap
In Android 10, notification of messages will come with an option of a suggested reply or action to the received message. If you are satisfied with the suggestion, with a single tap you can reply to your messages.
Stay Focused, Avoid Distractions
Many times you would just like to stay focused on an app you are currently using and not be distracted by any other one. Android 10 has a feature that lets you do just that. You can select apps you want to silence or pause for a while. This is an addition to the Digital wellbeing of android OS.
Stay Secure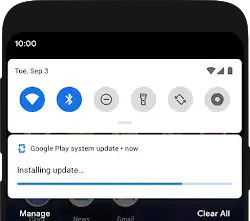 All devices that have the capability for Android 10 will be able to get better, faster and regular security updates. This is due to a new endeavor by Google called, project mainline. "With Google Play system updates, important Security and Privacy fixes will now be sent directly to your phone from Google Play, just the same way all your other apps update".
Take Charge of your Privacy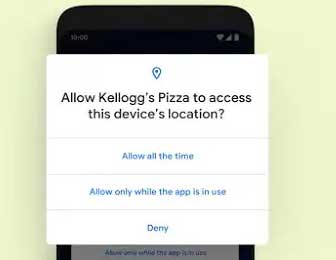 In Android 10, you get better and smarter control that lets you decide what and how data on your phone should be shared. For example, the app permission feature has been adjusted to help you get a better understanding of what data an app has access to. Users will be able to explore many available privacy options and set them to the way that best suite them.
Android 10 for Foldables
The year 2019 will always be remembered as the year foldable phones hit the smartphone market. Android 10 was designed with this in mind. It is optimized to allow for seamless integration with these foldable devices.
When would we get Android 10
On September 3, 2019, Android 10 was officially released on supported Google pixel devices followed by other third-party phones like Essential phone, Redmi K20 Pro and selected One plus devices. Other eligible mobile phones are still getting their updates as soon as their manufacturer makes it available. Unfortunately, though, the majority will not get android 10 until 2020.
Originally posted 2019-10-29 06:52:55.