In 2014, the first phones with Android One were rolled out in India, Pakistan, Bangladesh, Nepal, Indonesia, the Philippines, Sri Lanka, Myanmar and other South Asian countries. Android One launched in Nigeria in August 2015 with the Infinix Hot 2 X510 (1 and 2 GB RAM version) and became the first Android One in Africa.(source: wikipedia). You may wonder What is Android One and How is it different from other android OS?
Since inception, Android versions have had it's names in an alphabetical order named against different desserts. More Recently is the Android P with the P for "pie". However, Android one does not depict this thread as we will see.
What is Android One
Android One – not to be confused with Android 1.0v the first Android OS version – was started by Google with a focus on entry-level devices for emerging markets. However it has evolved into Google's principal mobile program.

Android One is developed on the regular versions starting in 2014, this means that it is not completely separate and independent of the regular versions. It is therefore, not a separate standalone version of Android but a flavor of a particular version. This means, the devices are with stock builds of the latest version of Android and unmodified by the phone manufacturers. As a result, it comes without any of the stuffs that manufacturers like to bundle in – no skins, no duplicate apps, no additional services and most importantly no ads or any bloatware
How Is Android One Different
The difference here is that Google allows developers and phone manufacturers to customize the original versions when released, reason for having android running on custom rom like MIUI for Xiaomi, hiOs for Tecno and XOS for Infinix.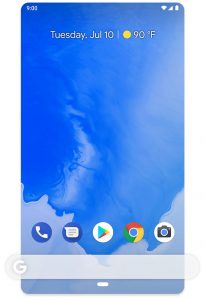 On the other hand, Android versions with Android One are shipped directly from Google and phone manufacturers cannot customize the OS. This means that when you buy a device with Android One, you won't find any manufacturer's own pre-loaded app, skin or additional services except Google's own proprietary apps and services.
Secure and Up-to-date
Android One cannot be altered by the Phone manufacturers, and only runs on certain smartphones. As a result you can be sure of having a secure and stable android version on your device with no bloatware. The smartphones will also receive at least two years of OS upgrades with security patches, bug fixes, and manufacturer support. This is a particularly interesting aspect since, OS upgrade is not a common feature of most low to mid ranged android devices
Rounding up
If you're contemplating getting a Android smartphone, one that is secure, guaranteed for security patches and version upgrades, smartphone running Android One may be the best option in the android market to consider after the Google's own pixel phones which can be quite pricey.
Originally posted 2019-03-27 07:29:13.